Mass Pouring Concrete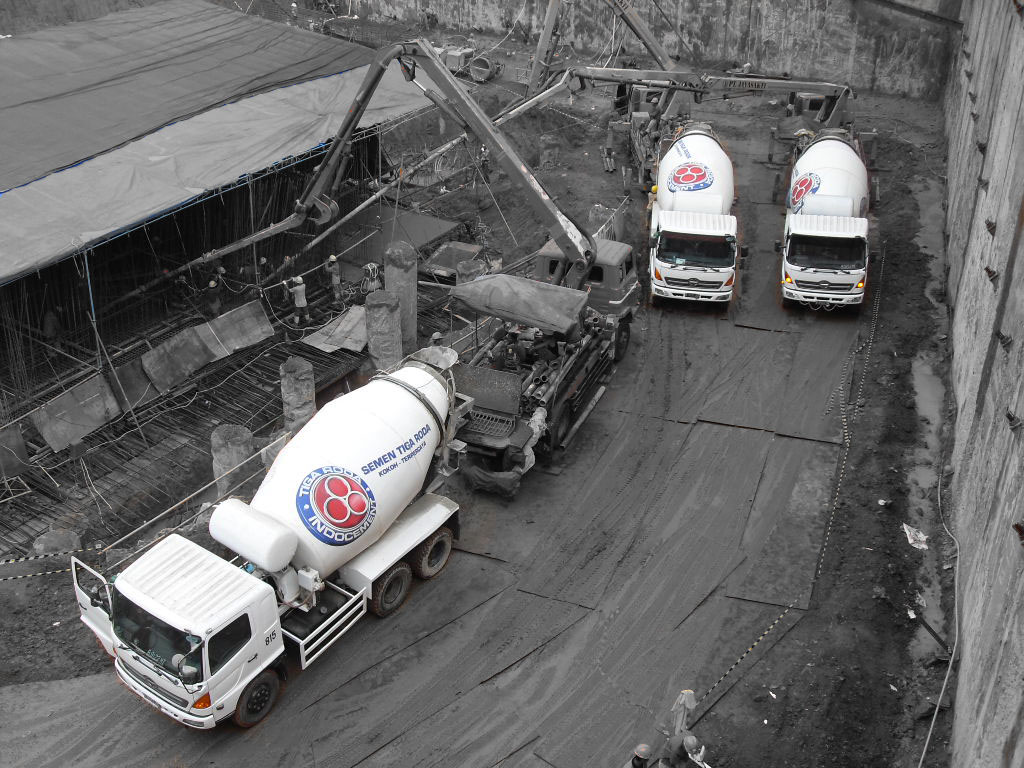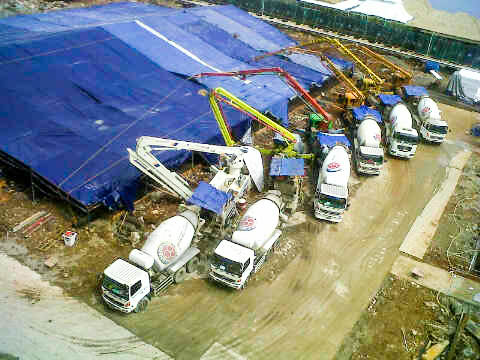 Mass Pouring Concrete is one of the stages in the process of building construction where the quality and time are very important.
We have batching plant resources at several strategic locations, the large numbers of mixer trucks to meet the travel time and capacity, an expert team and supporting equipment (water chiller, ice crusher, GPS, etc.) are absolute in the implementation of mass pouring concrete supply that made us an expert and trusted in the implementation of mass pouring concrete.

Service and Facilities:
Technical service methods and analysis of the implementation of the mass pouring concrete associated with concrete supply
Resources and sufficient delivery capacity according to the request and the method that assigned by the contractors
Supporting equipment such as water chiller and ice crusher to ensure concrete's temperature according to specification
On site GPS and ERP monitoring system to control the concrete delivery
Experienced team placed at the project site and the plant
Capability:
With the resources and experienced team, we were able to finish the mass pouring concrete 12,000 m3 in one of the super block in SCBD Sudirman within 78 hours, the capacity of supply of 300 m3 - 320 m3 per hour, the supply of 7 batching plants and 180 mixer trucks engaged to supply the project.
In another achievement, we were also able to complete mass pouring concrete successfully in 2 different locations with a total volume of 15,000 m3.
Experiences:
| PROJECT | CONTRACTOR | VOLUME M3 | CONCRETE TEMP | DURATION |
| --- | --- | --- | --- | --- |
| District 8 | Acset Indonusa | 12,000 | 32 Deg C | 78 hours |
| Menara Sentraraya | Total Bangun Persada | 9.500 | 32 Deg C | 59 hours |
| The Pakubuwono Signature | PT. Acset Indonusa | 7.000 | 32 Deg C | 54 hours |
| Senayan Square (STS) | PT. Kajima Indonesia | 4.000 | 32 Deg C | 40 hours |
| Podomoro City | Total Bangun Persada | 8,000 | 38 Deg C | 43 hours |
| Botanica Residence | Nusa Konstruksi Engineering | 4,200 | 32 Deg C | 52 hours |
| Centennial | Acset Indonusa | 9,500 | 32 Deg C | 60 hours |
| Izzara Apartment | Pembangunan Perumahan | 4,000 | 32 Deg C | 38 hours |
| The Windsor | Nusa Raya Cipta | 5,500 | 35 Deg C | 38 hours |
| South Quarter | Tata Mulia | 3,000 | 32 Deg C | 34 hours |